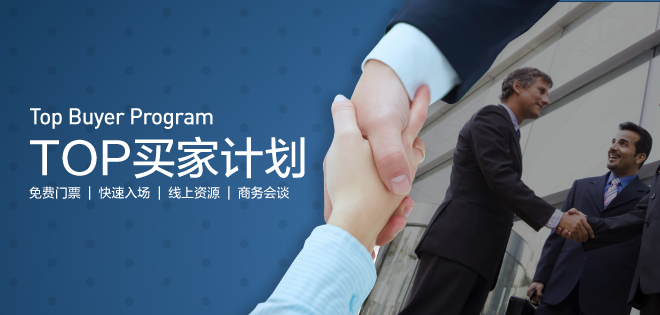 The "Top Buyer" program is designed to provide buyers participating in Interfoam with precision procurement services. With the purpose of precisely matching the demands of buyers and suppliers during the exhibition, the Organizing Committee customizes this "Top Buyer" program. We will match invited important guests and leading enterprises with their desired exhibitors, and arrange one-to-one in-depth discussion for them in designated zone. Participants of "Top Buyer" program need to have clear purchase intention or plans, and need to be executives or professionals from enterprises of foam production, applications, and sales, who have the power to make purchasing decisions.
The "TOP Buyer" program is aimed to build the most precise and convenient communication platform for exhibitors and professional buyers. With this plan, you will communicate with desired exhibitors face to face in a timely way, and enjoy various VIP services provided by the program. In the meanwhile, you also have the right to obtain the latest news about the development of foam industry. This "Top Buyer" program will be the best choice for you to select products fast and conveniently, build new connections, explore new markets, and promote your company and brand image.
Notes: The Application deadline of the "Top Buyer" program is Nov 4, 2022.
VIP services provided by the "Top Buyer" Program
Top Buyers will enjoy various VIP services provided by the Organizing Committee so as to ensure convenient and comfortable participation in the exhibition and related events.
| | | | | | | | |
| --- | --- | --- | --- | --- | --- | --- | --- |
| | Free Passes | | Fast Sign-in | | Free Lunch | | Online Brochure |
| | VIP Offering | | Business Match | | Forums | | Online Resource |
How to become a Top Buyer?
If you are from a foam manufacturer, or foam application industries including aerospace, military, shipping, railway locomotives, automobiles, electronics, construction materials, energy, medicine, sports and leisure, toys, models, daily necessities, agriculture, transportation, packaging, cushioning materials, filtration, special applications, and have the power to make purchasing decisions or engage in the following positions, and meanwhile, have clear purchasing intentions during the Interfoam, you can become a Top Buyer after passing the verification of the Organizing Committee.
Before exhibition begins, you will receive a participation number specially offered to Top Buyers, with which you can obtain a Top Buyer Badge at registration site for Top Buyers. Then enjoy your VIP services freely!
Chairman of the board | General Manager | Purchasing Director | R&D Director | Technical Director | Design Director | Chief Engineer or other managers
Actions speak louder than words. Please contact us as soon as possible to become a Top Buyer and jointly build a better future for foam industry!